---
Speed Dialing
We are proud to release speed dialing.
With speed dial you can call your favorite telephone numbers by dialing a short digit sequence rather than having to type the entire phone number every time you want to call. Speed dial allows you to make calls to your favorite numbers much faster. You can use speed dial when making calls through any country access number as well as when using the callback service.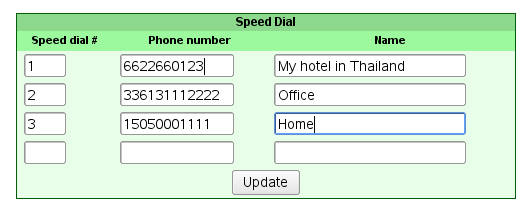 To access the speed dial configuration page displayed above login to your Diamondcard account first. Click OPTIONS link in the TELEPHONY section of the navigation bar located on the left side of the screen. Click the SPEED DIAL link above. Then edit your speed dial entries.
---