---

Add Calling Card
When you get started you need to "add a calling card". Enter a name and description and click "add". This is your first step in creating a new calling card.

Manage Calling Cards
This section allows you to manage your existing calling cards.Click on the name of your calling card to edit.

Calling Card Details
Change the name of your card, delete it or add a new batch of calling cards.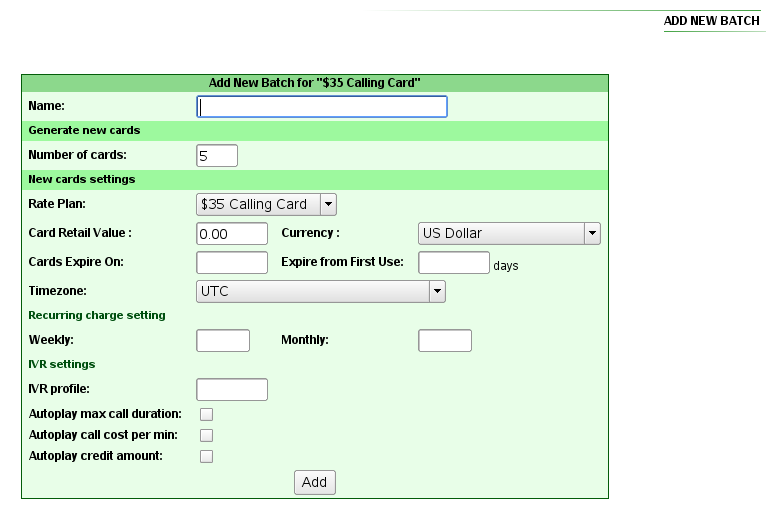 Add new batch
Once you have created a calling card by clicking "add a calling card" you can add one or more batches of calling cards to it.
Name - Each batch can have it's own name within a top level calling card name.
Number of cards - Choose how many cards you want to create in this batch. If you choose 1000 the system will create 1000 pin codes and account ID #'s.
Rate Plan - Choose a rate plan. A rate plan is how you apply call rates to your calling card.It specifies a pricing for each destination a user may call. For example, calling USA is /0.08/min.
Card Retail Value - Enter the amount of the card. If you enter 10 then the card has a value of /10 assuming you have chosen "currency" of "USD".
Currency - Choose the currency of your card. If you are selling cards in Czech Republic then you should choose "CZK" for currency.
Cards Expire On - If you want to set an expiration date enter it here.
Expire From First Use - Enter a number of days. If you enter 90 a card will expire 90 days from its first use. If you leave it blank the card will never expire.
Timezone - Enter the timezone of your cards.
Weekly/Monthly Recurring Fees - If you want the system to charge a weekly or monthly fee enter the amount in these fields.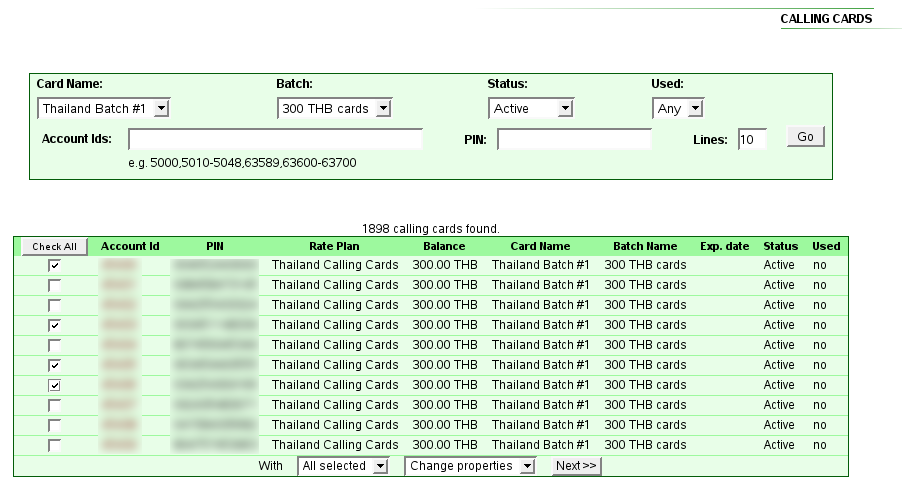 Manage cards
This section enables you to search for specific calling cards. You can search by card name, card batch, status of active/non-active, used/unused and account ID# or pin code.
Once you find the calling cards you are looking for you can update various parameters with one click. If you need to change the rate plan for 15,000 cards in one instance this is the way to do it.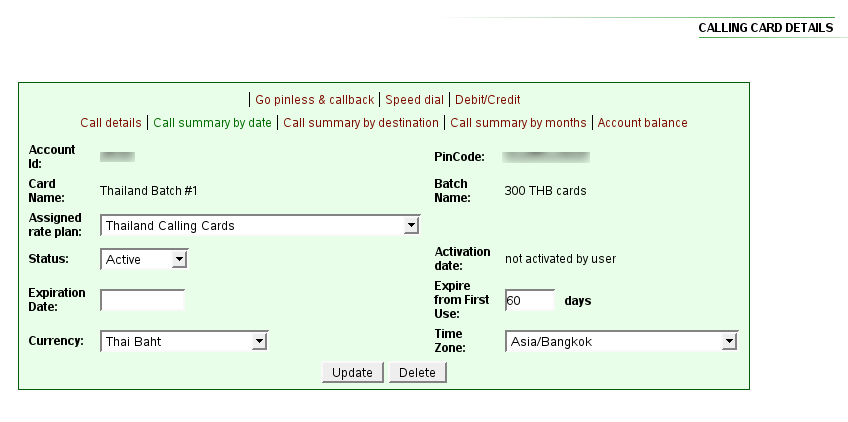 Card Details
After you have searched for a specific card clicking on the account ID# brings you to the details page. You can update any of the parameters for this card.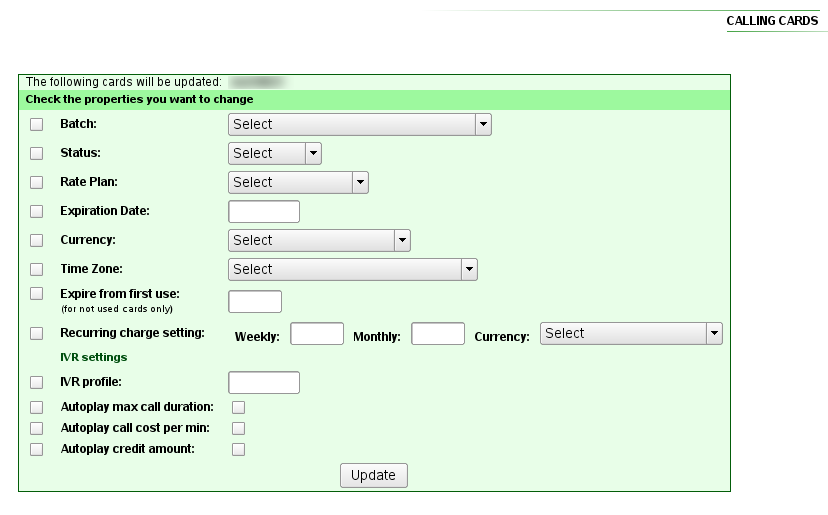 Update many cards are one time
You can move cards from one batch to another batch. Change the rate plan, currency, status from used to not-used or back the other way, update the expiration date to extend it or reduce it, and change the "expire from first use" number of days. If you need to change the rate plan for 15,000 cards in one instance this is the way to do it.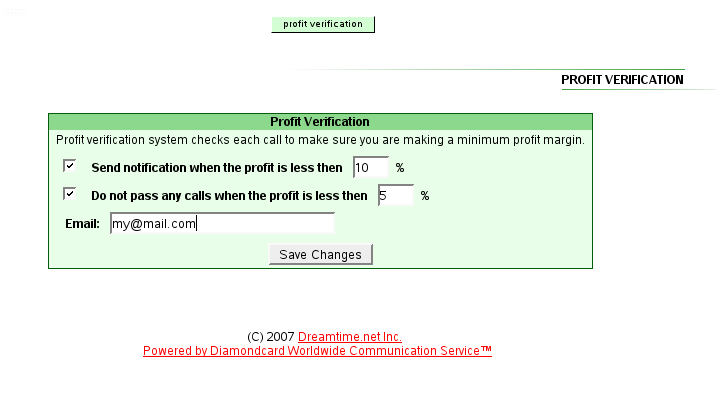 Options->Profit verification
Profit verification will alert you to a low profit situation. You can configure the system to alert you by email when a call is made and the profit percentage is too low or you might want to have the system block any calls if your profit percentage does not meet a minimum amount. This way you can be sure that no calls will pass from your cards unless you are making enough of a profit.
---